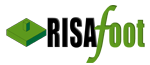 Step 1: Click here to Download the installation.

File: WebDemoRF_400.exe (5.97 MB)

Step 2: You may be prompted to run or save the install file

- To run the installer, click Run.


- Otherwise Save the file to a location you can access (such as your desktop).
- Then Double-click on the saved file to start the installation process.

Step 3: Follow the installation instructions on your screen.
RISAFoot General Reference
File: FootGenRef.pdf (1.07 MB)
RISAFoot Demonstration Version Overview
The demo program and manual are copyrighted to RISA Technologies, Inc., but you are free to copy and distribute both the software and manual to anyone you wish, so long as no fee is associated with that distribution.
The RISAFoot demo program is licensed for use for demonstration purposes only. In no event should this demo program be used for professional design purposes.
Demonstration Program Limitations
This demo is a working program but certain deliberate limitations have been added. These include:
Footing Thickness is limited to be 12 inches. The full professional version of RISAFoot is able to be accommodate any footing thickness.
Allowable Soil Bearing Pressure is limited to be 1000 psf. The full professional version of RISAFoot will allow any value for the Allowable Soil Bearing Pressure.
Allowable Bearing Increase Factor is limted to be 1.333. The full professional version of RISAFoot will let you enter any value for the Allowable Bearing Increase Factor.