---
Added Anchorage Design, Including Pullout Using Hilti PROFIS Engineering Integration
---
RISAConnection v11 has added the ability to export base plate connections as well as reactions directly to Hilti PROFIS Engineering for anchorage design. Within Hilti Profis, engineers can check anchor strength, anchor pullout, concrete breakout and concrete pryout according to ACI 318 in order to finalize the design of the base plate assembly.
To begin, users can define a Single Column Base Plate connection manually or can import a model from RISAFloor/RISA-3D with connections already defined.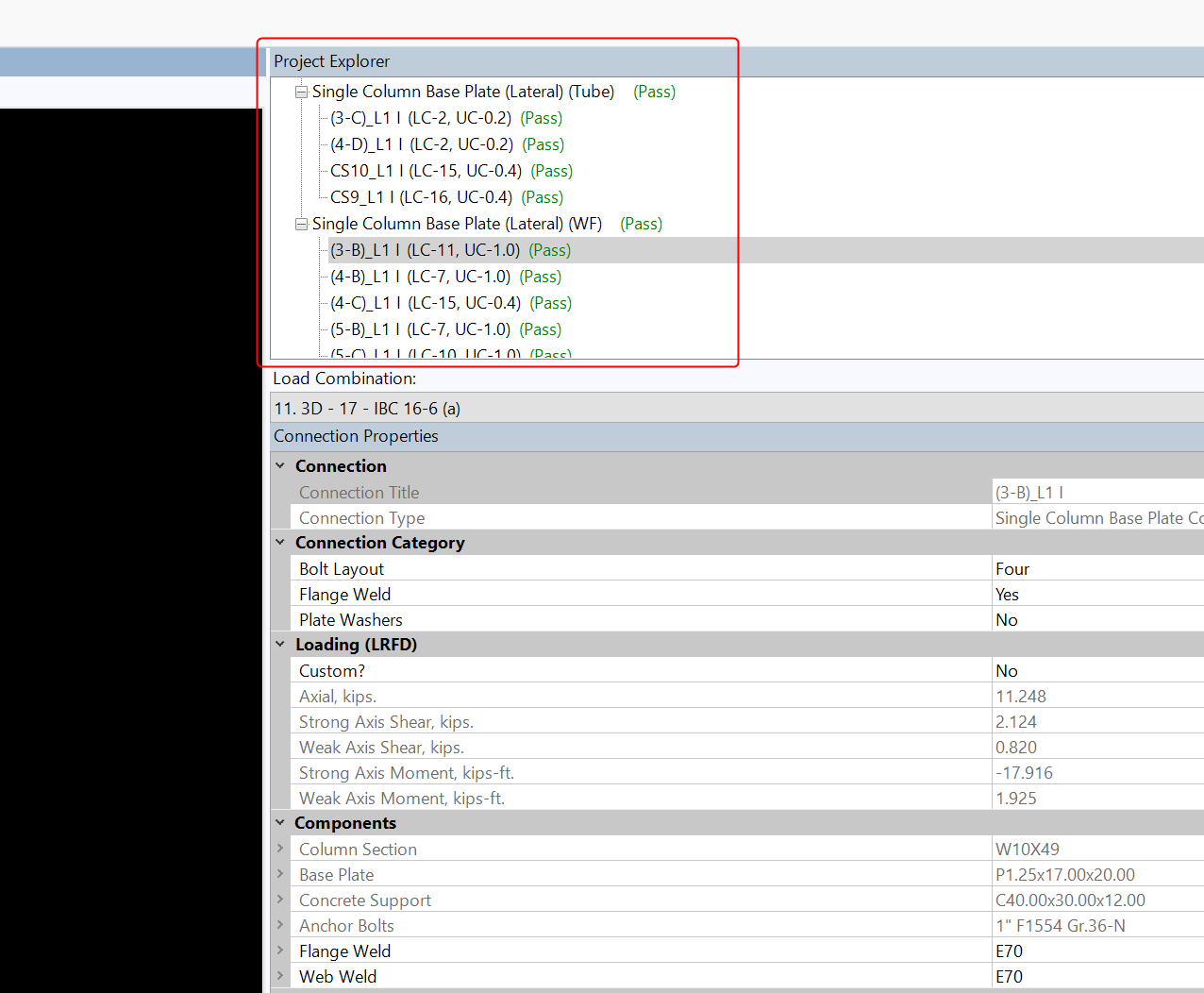 Once the base plates have been properly designed in RISAConnection for all applicable AISC limit states, users can select the "Export to Profis" button found in the "Tools" section of the toolbar.

Once the export process is started, users can select the specific base plate connections that they wish to send to Hilti PROFIS Engineering for anchorage design.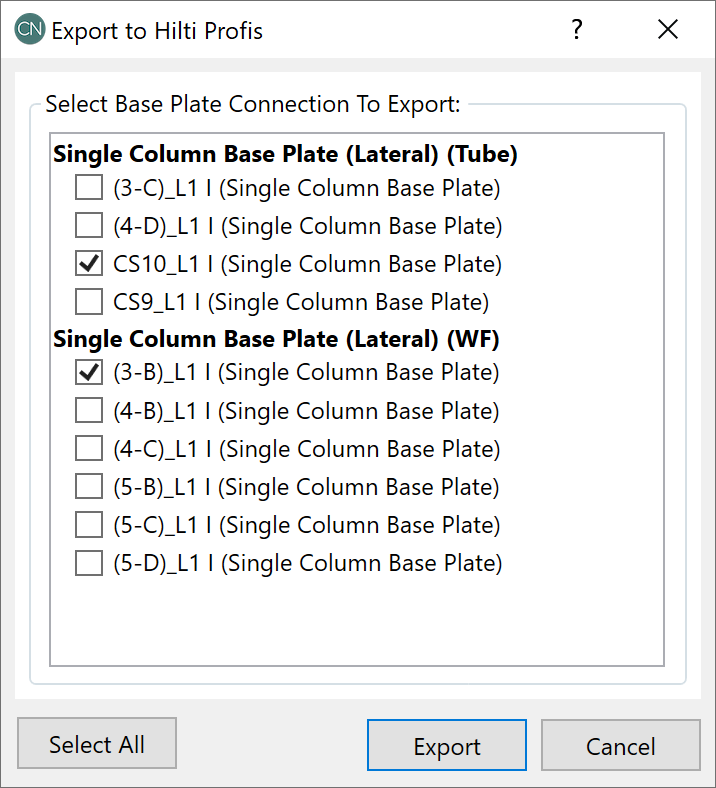 Once the required base plates are selected, users may be prompted to sign-in to Hilti PROFIS Engineering if they haven't done so already. This login information is for the Hilti PROFIS Engineering Suite. If you do not already have an account use the link button below to learn more about Hilti PROFIS Engineering and to create a free account.
Hilti.com - PROFIS Engineering Suite
Once you are logged into the Hilti PROFIS Engineering system, you will be informed that a new connection is available from RISA.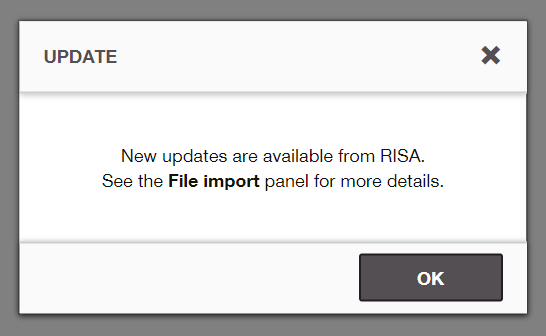 To import the connection file, select the Click to update from RISA button found in the File Import section of the Hilti PROFIS Engineering interface.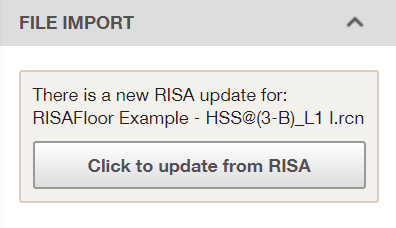 The base plate connection will now be imported into Hilti PROFIS Engineering for further design evaluation. You'll notice that the connection geometry as well as individual load combinations (from integrated RISAFloor/RISA-3D model) are available in Hilti Profis Engineering. Users can make modifications to the base plate, anchors and concrete as necessary in order to achieve a passing design.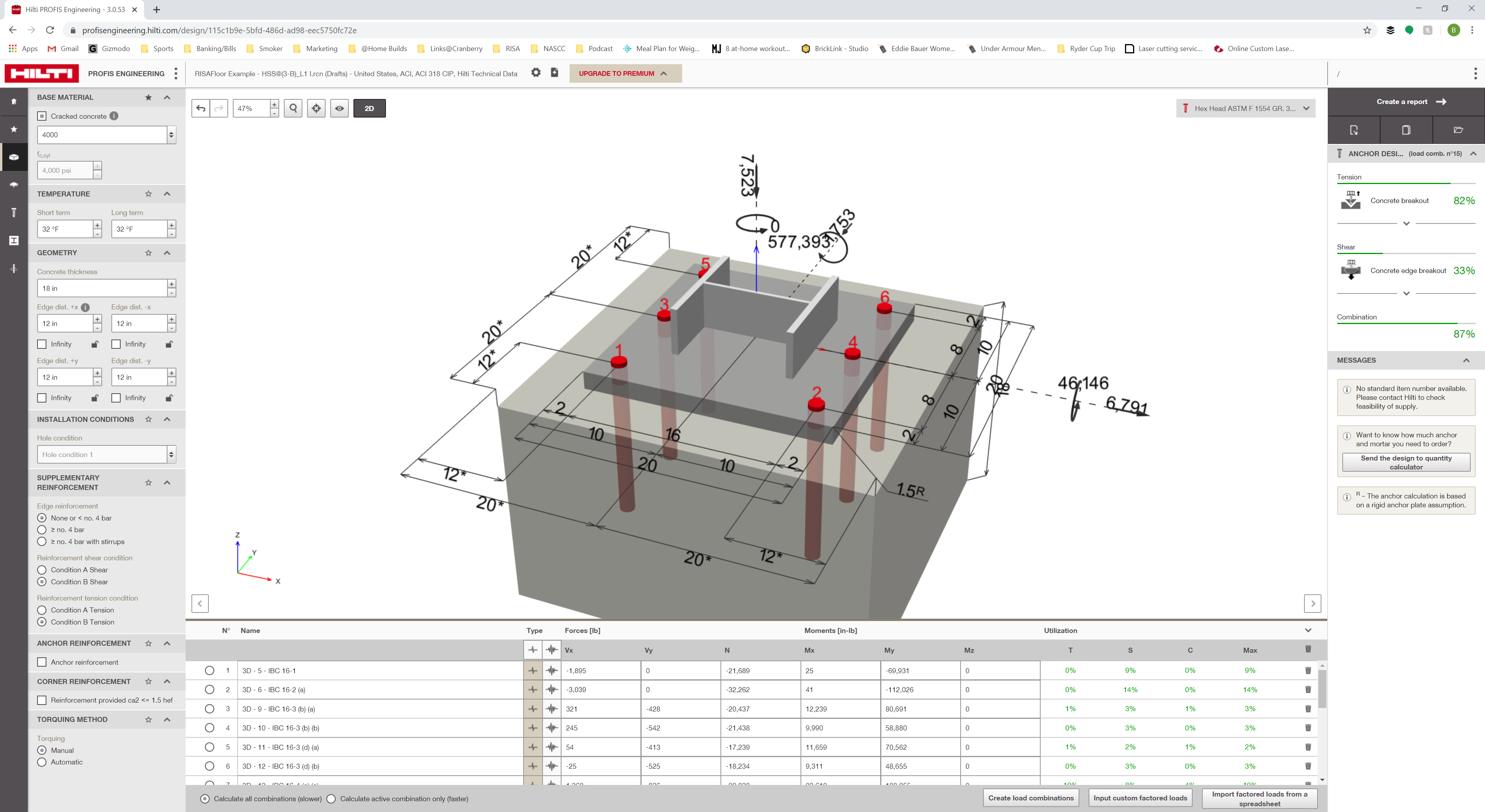 Once the design is complete, users can either create a PDF report or export the results to RISAConnection for inclusion in the overall Connection Design Report. To do this, click the Export RISA button found in the Loads/Calculation Type section. Users can then add additional comments and notes before exporting the report to RISAConnection.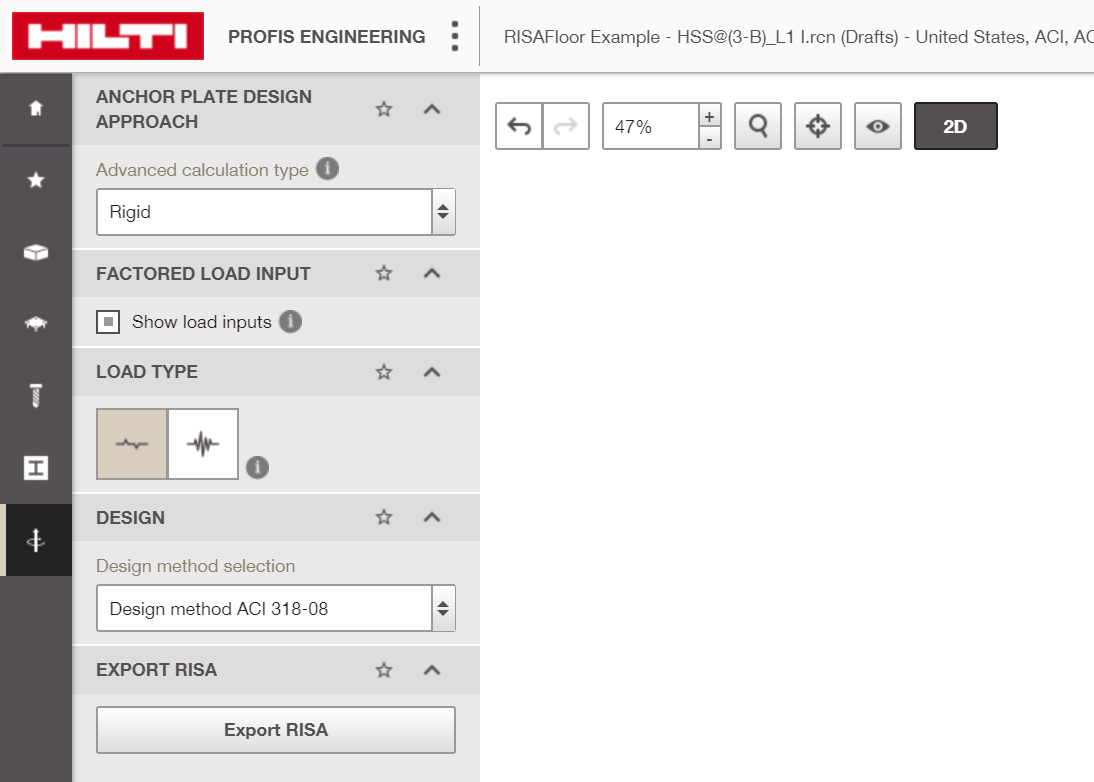 Once the design file has been successfully exported, switch back to RISAConnection and click Import Profis Results found in the Tools section of the toolbar.

The PDF report created from Hilti PROFIS Engineering can be found in the results folder defined by the program in the Application Settings.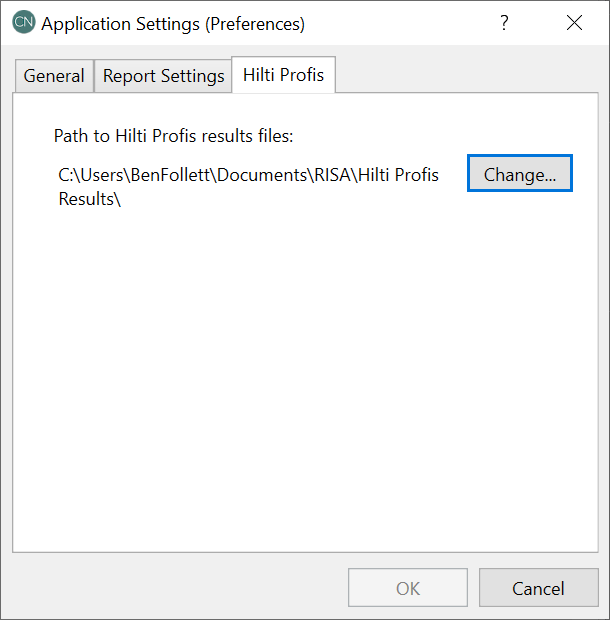 It is now possible to include the anchorage output along with the steel connection output during the creation of the report. To include the anchorage output, click the File Location button to define the folder for available PDF attachments.
This will allow for the inclusion of the Hilti PROFIS Engineering anchorage report such that it can be added along with the connection reports available in RISAConnection.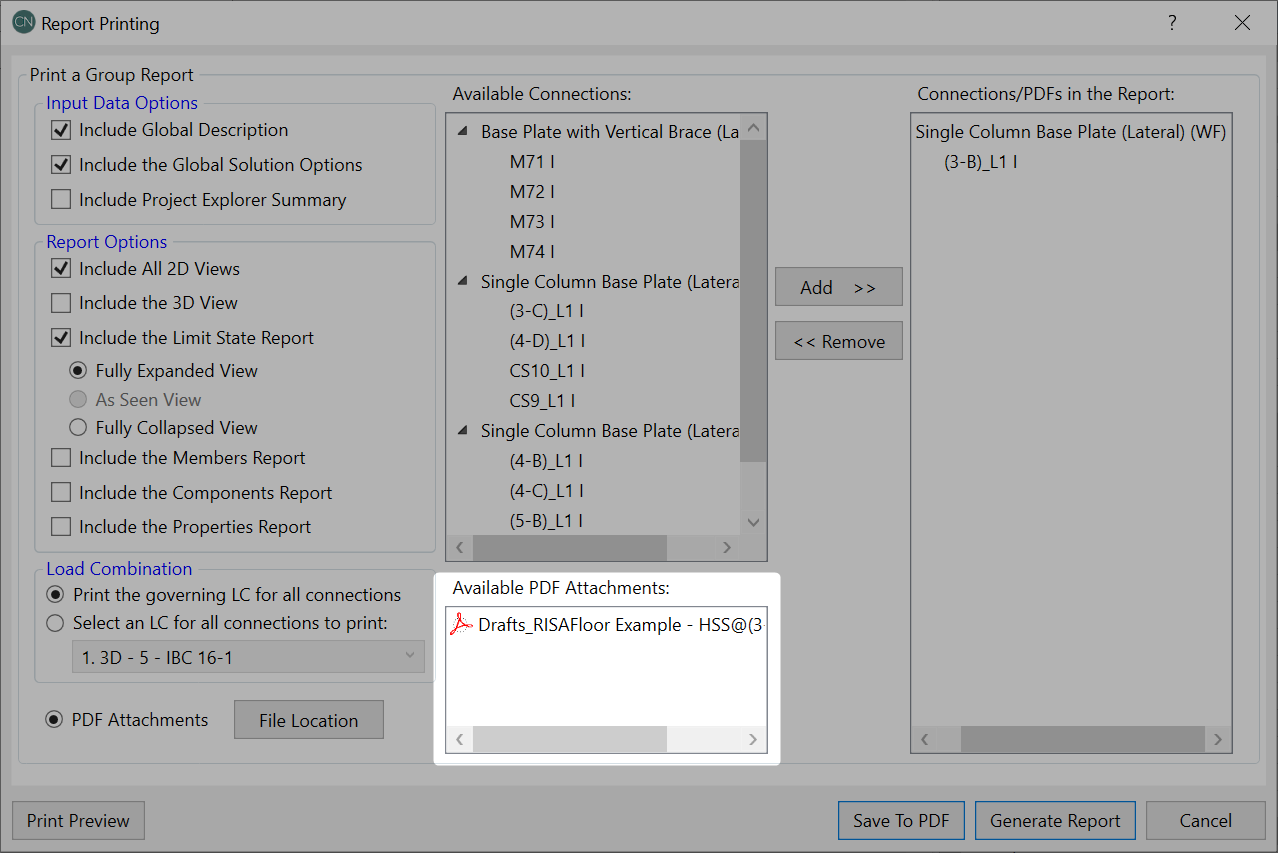 For even more information about the integration between RISAConnection and Hilti PROFIS Engineering, watch the video below.
---
Tags: RISAConnection Hilti Base Plate