---
How do I Move RISA to a New Server?
---
Occasionally, you will find the need to change your server from an old computer to a new one, or perhaps you simply want to move your RISA products to a new server within your office. This blog will lay out the simple steps necessary to get your RISA programs up and running on the new server.
Before you begin, you will want to obtain your license file. The administrators on your company account can log into the RISA Customer Portal (see link below) and access the License Details section located on the Licenses tab. On this page you will find download links for your License File, Network Server Install, as well as the program installs for the client machines if needed. The license file has a .dat extension and can be downloaded to a location where you can browse to on the server. You can also request your license file from our licensing department by emailing license@risa.com.
1. Make sure the hardware key is disconnected from the computer and run the Network Server Installation on the new server.
2. Connect the hardware key to the new server via any properly functioning USB port.
3. After installation browse to C:\RISA\Sentinel RMS 9.6 and run WlmAdmin.exe.
4. Expand the Subnet Servers tree and expand your server.
5. Right click on your server name and select "Add Feature," "From a File," "To Server and its File."
6. Browse to the "risa_…..dat" license file.
7. After the license file has been added, you should now see the RISA programs listed below your server name.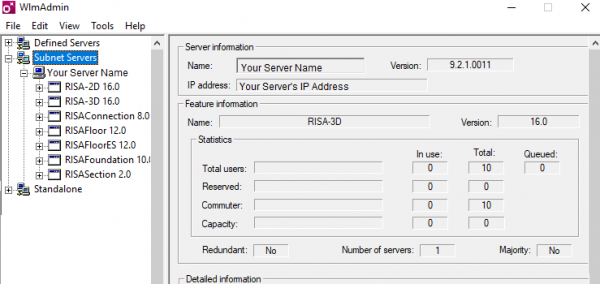 On the client computer, the next time the user launches the RISA program, the computer should search the subnet to find the new server and check out the license. If you had previously entered the (old) IP address or DNS name in the Client machine's LS Query List registries, you will also need to update these to that of the new server. This registry information is located in the following locations:
HKEY_CURRENT_USER\Software\RISA Technologies
HKEY_LOCAL_MACHINE\Software\RISA Technologies
For more detailed information on RISA network installation please see the following on our website:
Help File: Network Installation
---
Tags: Licensing