---
Methods to Integrate with RISAConnection
---
There are several ways to take your RISA-3D or RISAFloor model to RISAConnection. The RISA-3D and RISAFloor end reactions can be sent directly to RISAConnection or RISAConnection can be operated from within RISAFloor and RISA-3D.
Below are the two methods to send the information from RISA-3D and RISAFloor to RISAConnection.
1. With a Single or Batch solution present, take the RISA-3D or RISAFloor model to RISAConnection using the Director button in the upper right corner of the screen.

2. In RISAFloor, click the RISAConnection icon to take all of the member end reactions to RISAConnection, analyze the connections, and return connection results to RISAFloor. This all happens without opening RISAConnection.

In RISA-3D, with a solution present, you can choose to Design Connections from the Solve dialogue. The member end reactions will be sent directly to RISAConnection and the connection results will be sent back to RISA-3D without opening RISAConnection.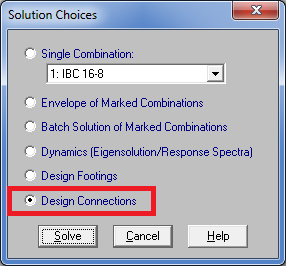 Once the connections are designed in RISAConnection, take the information back to RISA-3D and RISAFloor by pressing the Export to RISA-3D/FL button within RISAConnection.

The Connections Results will be present on the Results toolbar and this spreadsheet will summarize the connections and controlling limit states for code check. With the Connection Results spreadsheet open, you can get back to the RISAConnection calculations by clicking on the Detail Results for Current Connection button at the top of the screen.

The Connection Detail Report can also be accessed through the Connection Icon on the left side of your screen after the RISAConnection results have been saved.

File information: The RISAFloor and RISA-3D model are saved in the same file. However, the RISAConnection file is saved as a new file type which has a .rcn extension. When a RISA-3D or RISAFloor model is integrated with RISAConnection it has the exact same name but with the .rcn extension. The two files need to be saved in the same location with the same name in order to be linked together.
Note: Don't forget to save the RISAConnection file in order to update the RISA-3D and RISAFloor file with the connection results.
---
Tags: RISA-3D RISAConnection RISAFloor