---
Updated Shear Contribution for Concrete (Vc) per ACI 318-19
---
The new ACI 318-19 code has been implemented into RISA-3D v19, RISAFloor v15, and RISAFoundation v13. One of the biggest changes between the ACI 318-14 code and the ACI 318-19 code is the shear contribution provided by the concrete, Vc.
ACI 318-14
In ACI 318-14, a simplified equation for the calculation of Vc could be used unless there is axial force present in the member.

The area of shear and flexural reinforcement in the cross section was not a consideration when determining the shear strength contribution of concrete using the simplified equation.
ACI 318-19
Now, in ACI-318-19, the calculation of Vc is dependent on whether the area of shear reinforcement provided, Av, is lesser or greater than the minimum area of shear reinforcement required, Av,min.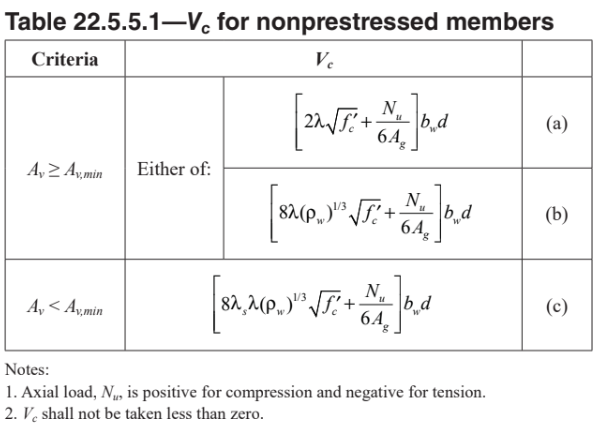 When Av > Av,min, the axial load and the flexural reinforcement ratio are included in the calculation of Vc. ACI allows us to use the larger of the results from equation (a) and (b) in the table. In RISA-3D detail report, this calculation will be presented in the shear design tab:

When Av < Av,min, ACI 318-19 introduces a new variable, the size effect modification factor, λs. Experimental tests have indicated that the shear strength of concrete does not increase in direct proportion with member depth in nonprestressed members with minimal shear reinforcement. The size effect modification factor, λs, is introduced to account for this effect: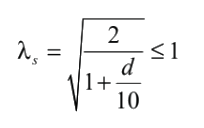 Examples when the area of shear reinforcement provided is less than the minimum required could be in the instance of a very deep beam, one-way and two-way slabs, and out-of-plane shear reinforcement in walls.
In summary, this change is applicable to the following:
RISAFloor/RISAFloor ES: Beams, Columns and Slab Design Strips
RISA-3D: Beams, Columns and Wall Panels
RISAFoundation: Beams, Slab Design Strips, Footings, PedestalsPiles/Pile Caps and Retaining Wall Footings
---
Tags: RISA-3D RISAFoundation RISAFloor RISAFloorES Concrete v13 v19 v15