---
WEBINAR: Metal Building Design in RISA-3D
---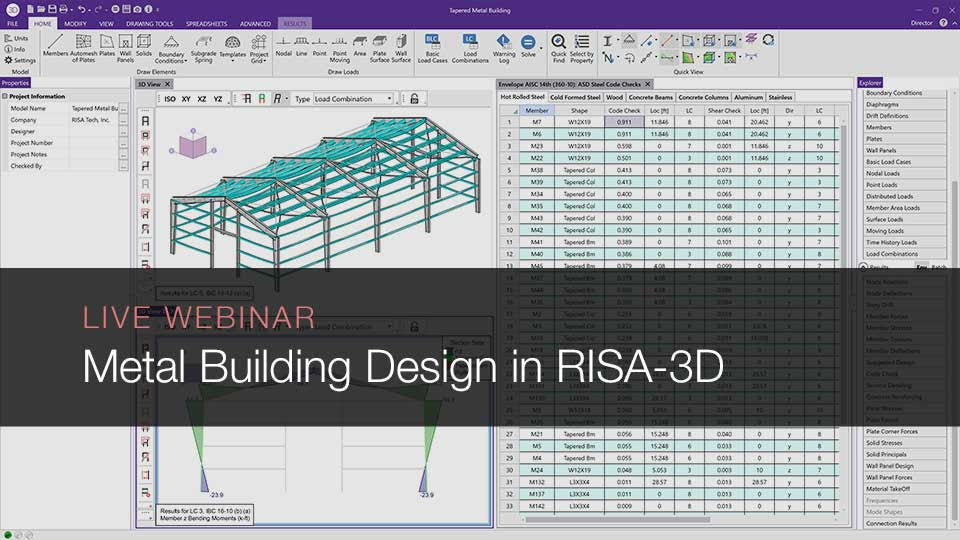 Prefabricated metal buildings utilized steel for their internal support as well as exterior cladding. These structures are used for their constructability and flexibility in a variety of applications including storage, work spaces and living accommodations. RISA-3D empowers users to easily model, load, analyze, design and document metal buildings with standard shapes as well as tapered wide flanges.
Join us on April 14th, 2020 at 2pm EST (11am PST) to learn how to:
Utilize a DXF in the creation of a complete metal building
Quickly apply gravity & lateral loading
Apply appropriate bracing conditions for proper steel design
Review results and create a complete engineering report
PDH Credits: 1.0 PDH credit will be sent to all attendees based on the email address used to register for the webinar. PDH credits cannot be sent to multiple people based on a single registration. If you wish to view the webinar as a group, please have each person in the group register individually and then after the webinar, email info@risa.com with a list of all group attendees. PDH credits will be sent out to these people as long as there is a corresponding registration.
If you missed the webinar, you can use the link below to view the recording and take the quiz in order to receive your PDH certificate.
Webinar: Metal Building Design in RISA-3D
---