---
WEBINAR: Multi-Story Concrete Building Design using ADAPT-Builder
---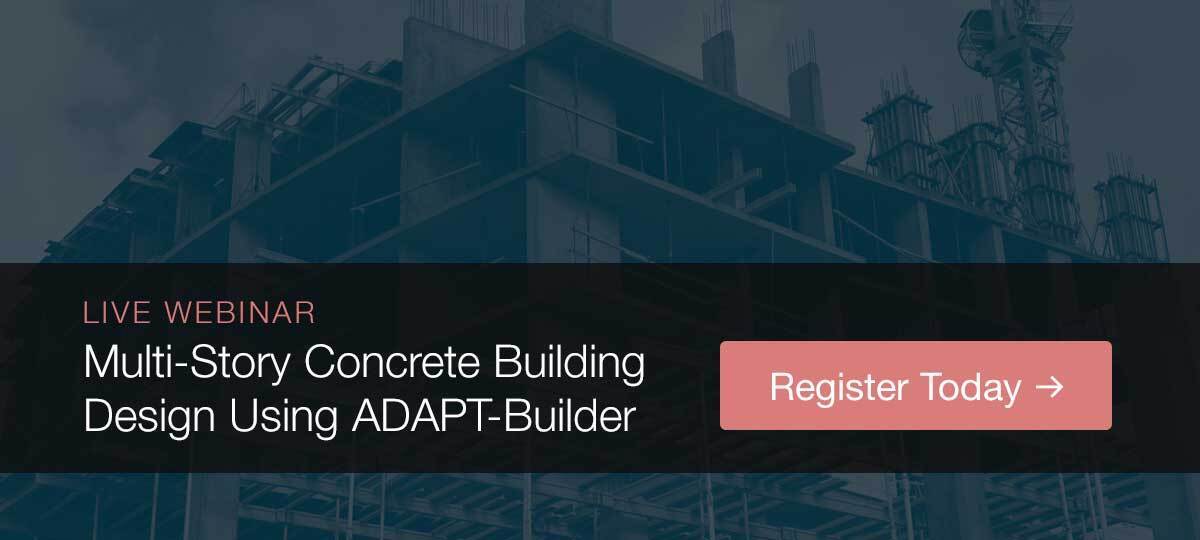 Reinforced and post-tensioned concrete structures in today's construction environment demand more efficient and reliable analysis, design, and BIM workflows. ADAPT-Builder offers a seamless and fully-integrated approach for modeling, analysis and design for single and multi-level concrete buildings. Learn how you can increase your productivity, quality of design and efficiency for reinforced concrete design with ADAPT-Builder.
Join us on June 23rd, 2020 at 2pm EST (11am PST) to learn how to:
Easily create models by importing Revit and dwg files
Utilize features like load takedown and FEM to analyze and design single and multi-level structures
Efficiently complete reinforced concrete design for slabs, beams and columns/walls.
Model user-defined reinforcement with ease for investigation of existing slabs and beams.
Click the button below to visit the webinar registration page.
PDH Credits: 1.0 PDH credit will be sent to all attendees based on the email address used to register for the webinar. PDH credits cannot be sent to multiple people based on a single registration. If you wish to view the webinar as a group, please have each person in the group register individually and then after the webinar, email info@risa.com with a list of all group attendees. PDH credits will be sent out to these people as long as there is a corresponding registration.
---
Tags: Webinar ADAPT Concrete ADAPT-Builder