The Most Powerful Concrete
Software Available
Reinforced and post-tensioned concrete structures in today's construction environment demand more efficient and reliable analysis, design, and BIM workflows. RISA offers a wide range of powerful design, investigation, and forensic software that allow engineers to increase their productivity and the ability to tackle complex projects. The RISA Concrete Design Suite provides a variety of design elements including one & two-way slabs, post-tensioned slabs, columns, walls, retaining walls, mat slabs, and footings.
The different RISA concrete design software programs work for you in a way that is powerful, accurate, and user-friendly. Concrete is one of the most widely used materials and that is why it is important for you to have the most powerful concrete software available in your office! Design and analyze the most basic or complex components of your building including footings, retaining walls, mild reinforced slabs, post-tensioned slabs, columns, and walls.
Integrated Workflow
Live Software Tour with a RISA Expert
Why design concrete buildings using RISA?
The vast number of applications for concrete means that structures can range from straightforward to complex. Having one suite of software that can handle anything you throw at it with ease, means engineers can get their projects done faster and more accurately than ever before.

Concrete structures are limitless in shape and size. Our freeform modelling programs enable you to create the most complex or simple structures with ease regardless of your skill level.
Comprehensive Concrete Components
With a wide range of robust solutions available, users can design concrete components including one & two way slabs, drop panels, beams, columns, walls, retaining walls, footings, piles, pile caps and mat slabs.
Streamlined Modeling and Detailing
Leverage a one model approach with seamless integration tools to easily implement any program into your existing workflow. Model exact geometry, quickly update designs, and effortlessly exchange models with detailers and fabricators.
Unparalleled Technical Support
Have a question? Our support team is staffed with professional engineers who are ready to help. Our goal is to equip you with the tools to be successful, while instilling confidence in our software.
Tools for Beginners and Advanced Users
Regardless of concrete design experience, users can leverage tools that enhance productivity, allowing modeling, analysis and design to be as straightforward as possible.
Exhaustive Design Codes
Design structures anywhere around the world using a wide range of international codes including ACI, Canadian, EC2, BS, Hong Kong, Indian, Brazilian, Chinese, and New Zealand codes.
Trusted for Years
With decades of development and constant updates all backed by engineers with industry knowledge, it is easy to understand why RISA offers the most trusted programs for concrete design.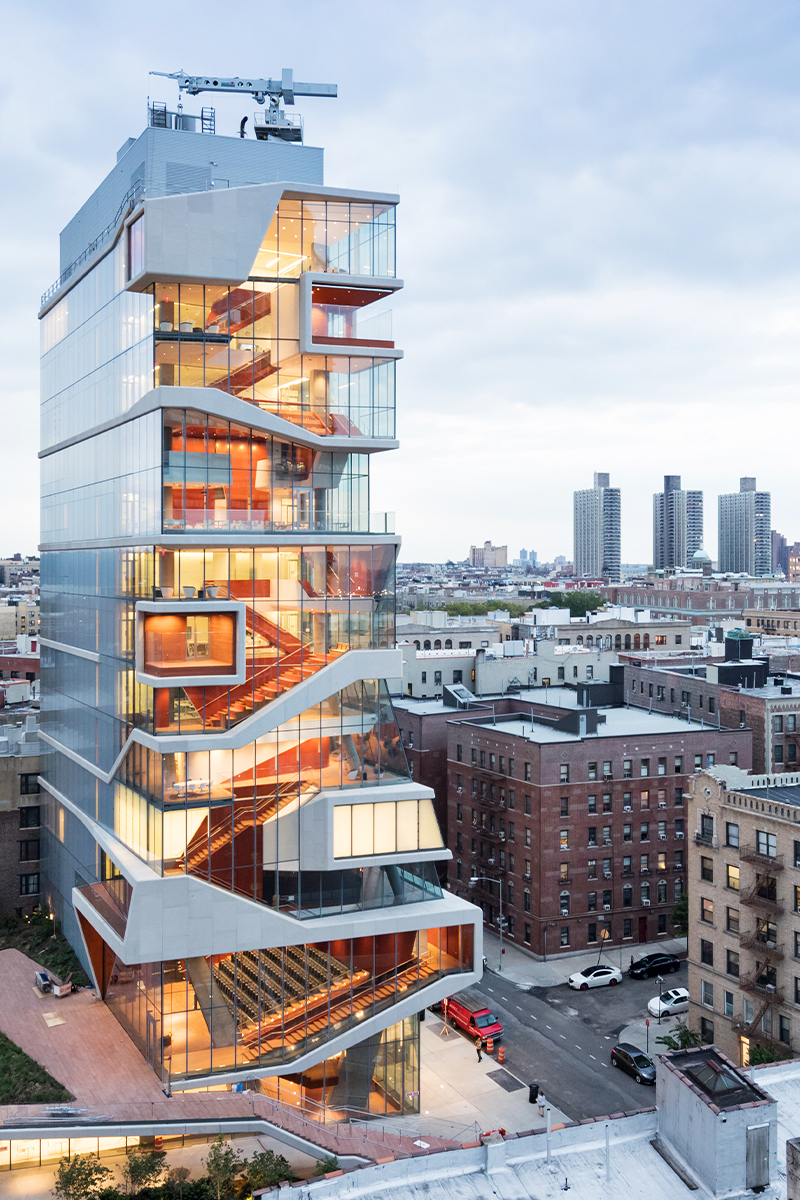 LERA Consulting Engineers leverages RISA for Complex Building Design
To design the 107,000 square-foot, 15 story Roy and Diana Vagelos Education Center, LERA Consulting Engineers utilized ADAPT-Builder to model and analyze the complex geometry with confidence.
"Using ADAPT-Builder to precisely calculate deflections while taking into account the load sharing effects at the cantilevered slabs was absolutely critical to the design."
See Case Study