---
Brace Design with Tapered Gusset Plates
---
In RISAConnection v8, you may now design a Knee Brace and Diagonal Brace with a tapered gusset plate. One of the greatest benefits is the decreased size of a brace gusset plate by manipulating the fold line location.
To use this new feature, you will have to choose either a Knee Brace or Diagonal Brace connection. In Connection Properties dialog, the tapered option will be in the settings for your Gusset under the Components section.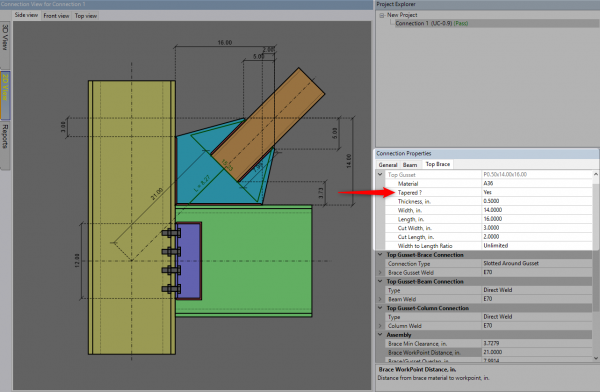 When the Tapered selection is chosen, this will add two options to your gusset component: Cut Width and Cut Length.
If the Width to Length Ratio option has Zero Moment (Uniform Force Method) selected, the ratio of your cuts will be controlled.
If this option is selected to Unlimited, the cuts can be adjusted independently.
---